Sepultura - Chaos DVD (2002)




Country of origin:
Brazil
Location:
Minas Gerais
Status:
Active
Formed in:
1984
Genre:
Death/Thrash Metal (early),
Groove/Thrash Metal, Nu-Metal (later)
Lyrical themes:
Satanism, Death, Anti-fascism (early);
Politics, Literature (later)
Member:
Paulo Jr.:
Bass (1984-present)
Andreas Kisser:
  Guitars (lead) (1987-present)
Derrick Green:
Vocals, Guitars
Eloy Casagrande:
Drums (2011-present)
The band name comes from a Portuguese translation of Motörhead's song
"Dancing on Your Grave" which is "Dançando na sua Sepultura". Sepultura
means "grave" (sepulchre) in Portuguese (and in some other Latin-based
languages). Originally, they wanted to call the band Tropa de Choque
(Shock Troops), but found that the name had been used before.
The first Sepultura show was on December 4th, 1984. The band played two songs that never were re-recorded or released.
Sepultura played the Donington Monsters of Rock festival in England in
1996 as a three piece with Andreas Kisser on lead vocals after Max
Cavalera learned about the murder of his stepson Dana Wells.
Max left Sepultura in December 1996 after the rest of the band had
clashes with his wife (Dana Wells' mother) and band manager Gloria
Bujnowski. He went on to form the alternative/nu metal band Soulfly.
Derrick Green, originally from Cleveland, Ohio relocated to Brazil to
replace Max as vocalist. Sepultura have largely played as a single
guitar band since then, though Green has occasionally played rhythm
onstage.
Roy Mayorga filled-in for Igor Cavalera during the European tour with In
Flames in 2006. Igor quit Sepultura permanently later the same year.
The Cavalera brothers then reunited in the Cavalera Conspiracy project.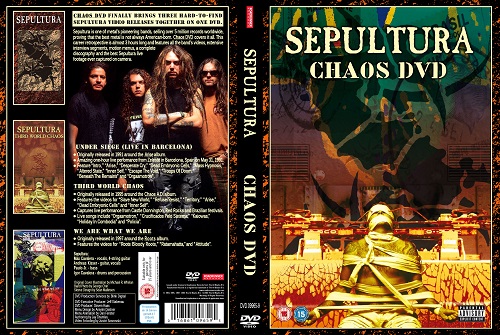 Chaos DVD 2002 - DVD9
Lineup:
Max Cavalera
Vocals, Guitars (rhythm)
Igor Cavalera
Drums, Percussion
Andreas Kisser
Guitars (lead), Vocals (backing)
Paulo Jr.
Bass
Place:
Spain
Pro:
Yes
Tracklist:
1 Intro (Under Siege Live In Barcelona)
2 Arise (Under Siege Live In Barcelona)
3 Desperate Cry (Under Siege Live In Barcelona)
4 Dead Embryonic Cells (Under Siege Live In Barcelona)
5 Mass Hypnosis (Under Siege Live In Barcelona)
6 Altered State (Under Siege Live In Barcelona)
7 Inner Self (Under Siege Live In Barcelona)
8 Escape To The Void (Under Siege Live In Barcelona)
9 Troops Of Doom (Under Siege Live In Barcelona)
10 Beneath The Remains (Under Siege Live In Barcelona)
11 Orgasmatron (Under Siege Live In Barcelona)
12 Orgasmatron (Third World Chaos)
13 Slave New World (Third World Chaos)
14 Kaiowas (Third World Chaos)
15 Refuse/Resist (Third World Chaos)
16 Territory (Third World Chaos)
17 Crucificados pelo sistema (Third World Chaos)
18 Arise (Third World Chaos)
19 Dead Embryonic Cells (Third World Chaos)
20 Holiday In Cambodia (Third World Chaos)
21 Inner Self (Third World Chaos)
22 Polícia (Third World Chaos)
23 Roots Bloody Roots (We Are What We Are)
24 Ratamahatta (We Are What We Are)
25 Attitude (We Are What We Are)

Disponible sólo a los usuarios