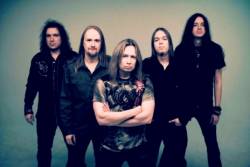 "Stratovarius" was founded in Finland in 1984 from former members
of the band Black Water. They went through a number of personnel and
musical changes before the band found its own voice. In 1984, the name
was changed to Stratovarius (a portmanteau of Stratocaster and
Stradivarius), an idea of Stråhlman's. By 1984, Timo Tolkki entered the
band, replacing Stråhlman in the guitar. He took up the vocal duties as
well. Tolkki became the driving force and mastermind of the band
assuming almost complete control of the song writing. He brought along
not only strong rock influences but also a neo-classical tinge. The band
released a demo to various record companies by 1987, finally being
picked up by CBS Finland. In 1989, their debut album Fright Night was
released followed by two singles.
      This line-up released three hugely successful albums over the
years: Visions in 1997, Destiny in 1998, and Infinite in 2000. With
every album their fame and fan-base expanded and they started gaining a
stronger following outside the Nordic countries particularly in Japan.
      On April 2 2008 Timo Tolkki announced on his official website
that the band has officially stopped due to various issues between the
band members.
Timo Tolkki has formed a new band, Revolution Renaissance. He released
his first album on june 6, 2008 and it featured guest appearences by
Michael Kiske (ex-Helloween) and Tobias Sammet (Edguy, Avantasia).
      On May 13 2009 Stratovarius released their 12th studio album,
Polaris, now with the new members Lauri Porra and Matias Kupiainen
playing bass and guitar respectively.
      Early 2011 saw the release of their new album, Elysium,
containing the songs that were written during the Polaris tour. Also
during 2012 saw the departure of long-time drummer Jörg Michael for
personal reasons and his replacement Rolf Pilve.
Track list:
Recorded Live at the Loud Park Festival 2013:
1.Under Flaming Skies
2.Speed Of Light
3.Halcyon Days
4.Eagleheart
5.Destiny
6.Keyboard Solo
7.Black Diamond
8.Unbreakable
9.Hunting High and Low
Line Up:
Rolf Pilve : Drums
Timo Kotipelto : Vocals
Lauri Porra : Bass
Matias Kupiainen : Guitar
Jens Johansson : Keyboards
3.45 GB
Disponible sólo a los usuarios