Gothic / SymphonicPower Metal from Finland.
Quote:
Nightwish is a symphonic metal band, formed in the town of Kitee, Finland in
1996. The band currently consists of Tuomas Holopainen (keyboards),
Marco Hietala (bass, male vocals), Floor Jansen (female vocals), Emppu
Vuorinen (guitars), Jukka Nevalainen (drums and percussion) and Troy
Donockley (uilleann pipes, tin whistle).
On the 1st of October Nightwish made a statement; Nightwish and lead
vocalist Anette Olzon have "decided to part company, in mutual
understanding, for the good of all parties involved". Olzon was vocalist
for Nightwish from 2006-2012.
The statement continued on to say that "Nightwish has no intention of
cancelling any upcoming shows, and as a result we have decided to bring
in a substitute vocalist starting in Seattle 1.10.2012. Floor Jansen
from The Netherlands (ex-After Forever, ReVamp), and she has graciously
stepped in to help Nightwish complete the Imaginaerum world tour.
After complete the Imaginaerum World Tour as touring member, Floor
Jansen, in 9.10.2013 was announced as definitive member alongside with
Troy Donockley, who worked with them in two albums: Dark Passion Play
and Imaginaerum.
Anette Olzon was announced to be the replacement for former vocalist and
frontwoman Tarja Turunen in 2007 after the latter was fired in 2005.
She has appeared on Dark Passion Play, Made in Hong Kong (And in Various
Other Places) and Imaginaerum, as well as the two-year Dark Passion
Play tour.
The band's leader, keyboardist Tuomas Holopainen, composes songs that
are often classified as either symphonic metal or power metal; their
musical style has also been described as a symphonic metal variant,
called opera metal and even in some cases called 'epic metal'.
Nevertheless, Nightwish is considered one of the main developers of the
symphonic metal genre, which encompasses similar bands such as Within
Temptation, Therion, Epica, Edenbridge, Lunatica, and Visions of
Atlantis.
The original idea of Nightwish was largely inspired by The Gathering,
and the idea was to use keyboards, acoustic guitars and the operatic
vocals of their then singer Tarja Turunen. This idea was changed in
1997, as a drummer was added, and the acoustic guitar was replaced by an
electric guitar.
The idea of using operatic vocals was changed dramatically with their
third album Wishmaster (2000), and more so on future albums, especially
Dark Passion Play (2007). In 2001, Holopainen asked Sami Vänskä, their
bassist since 1998, to leave, and he was replaced with Marco Hietala
(Tarot, ex-Sinergy), leaving Sinergy. The bassist would, apart from
playing his instrument, also perform male vocals.
Century Child (2002) marked a new change in Nightwish' music, as they
used a live orchestra on several songs, to get a more present feeling of
classical music. This was developed further with their US breakthrough
Once (2004) and Dark Passion Play (2007), the latter being the first to
use orchestra on all of the songs.
In October 2005, after touring for their Once, the four other members of
Nightwish decided that it was best to continue Nightwish without Tarja,
a feeling they expressed through an open letter.
This was due to the fact that they felt that her husband Marcelo Cabuli
and commercial interests had changed her attitude towards Nightwish.
Tuomas Holopainen gave the letter to Tarja after the last concert of the
tour. In spring 2007, 35-year-old Anette Olzon from Katrineholm, Sweden
was announced to replace Tarja Turunen.
The band released a new single, Eva, featuring their new singer in May, 2007.
It was followed by another single, Amaranth, on August 22, and a studio album in late September entitled Dark Passion Play.
The third international single of the album was Bye Bye Beautiful,
released on February 15, 2008, and the next was The Islander, released
in May, 2008.
On February 10, 2011, Nightwish announced via their website that the
title of their seventh studio album will be Imaginarium. The album
released in late 2011, is a concept album telling the story of an old
composer on his deathbed, reminiscing of his youth. The album is to be
produced alongside a movie with the same name, directed by Stobe Harju,
who previously directed the music video for "The Islander". The first
single to be released was Storytime on November 11, 2011. (Storytime
Songfacts).
Bandmembers: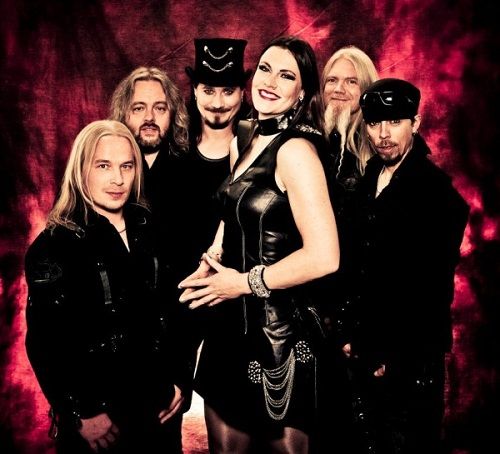 Emppu Vuorinen - Guitars
Tuomas Holopainen - Keyboards
Jukka Nevalainen - Drums
Marco Hietala - Bass, Vocals
Troy Donockley - Uillean pipes, Tin whistle, Vocals
Floor Jansen - Vocals
Quote:
This is a DVD rip from the band's latest DVD called Showtime, Storytime. The
DVD was released on November 29th through Nuclear Blast.
Tracklist:
DVD 1 - Live @ Wacken Open Air 2013:
1. Dark Chest of Wonders
2. Wish I Had an Angel
3. She Is My Sin
4. Ghost River
5. Ever Dream
6. Storytime
7. I Want My Tears Back
8. Nemo
9. Last of the Wilds
10. Bless the Child
11. Romanticide
12. Amaranth
13. Ghost Love Score
14. Song of Myself
15. Last Ride of the Day
16. Outro (Imaginaerum)
17. I Want My Tears Back (Live at Hartwall Arena - Music video)
18. Ghost Love Score (Live in Buenos Aires - Music video)
DVD 2 - Documentary + Extra's
1. Please Learn the Setlist in 48 Hours (Documentary)
2. Nightwish Table Hockey Tournament
3. Christmas Song for a Lonely Documentarist
Disponible sólo a los usuarios