Disturbed - Discography (2000 - 2011)
Disturbed
Nearly a decade after the release of their groundbreaking debut, The
Sickness, Disturbed have become one of the most passionate and
well-respected bands in the hard-rock universe, a dependable source not
only of pummeling riffs and jackhammer beats, but of personal and
political insights into our troubled times. Yet success (in the form of
three platinum-plus albums, with both Believe and Ten Thousand Fists
topping Billboard's album chart and over nine million albums sold)
hasn't dulled this Chicago-based foursome's taste for adventure. If
anything, Disturbed's loyal fanbase has pushed the band to newer heights
of self-expression. So it makes sense that on the occasion of their
fourth album, Indestructible, that frontman David Draiman, guitarist Dan
Donegan and drummer Mike Wengren decided to take the reins and produce
themselves in the studio.
"Doing three records with Johnny K taught us a tremendous amount,"
Draiman says of the industry veteran who helmed The Sickness, Believe
and Ten Thousand Fists. "We're always trying to evolve and try new
things and experiment," adds Donegan. "So this time we wanted to do
things a little bit differently." Wengren says that Indestructible—which
the band tracked over three months in Fall 2007 at Chicago's
Groovemaster Recording—afforded the band the "opportunity to prove to
ourselves and to everybody else that we could do it." The result of
Disturbed's experimentation in the studio is the group's darkest,
angriest outing yet. Inspired by two and a half years' worth of
challenging experiences, Draiman told the rest of the band that he was
in the mood to purge. Fortunately, they were right there with him.
"We wanted to get back to some of the elements that were maybe lacking
on the last two records," says Donegan. "David's got a great ability to
sing really melodically, but we wanted him to get back to the rhythmic,
animalistic, rapid-fire delivery he's known for. He's very hard to touch
when he does that, and we wanted to give him music to provoke that."


Members:
Current members:
1996-   David Draiman - vocals
1996-   Dan Donegan - guitar
1996-   Mike Wengren - drums
2004-   John Moyer - bass
Former musicians:
1996-2003   Steve "Fuzz" Kmak - bass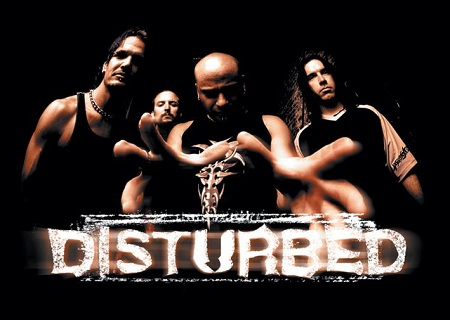 Discography:
2000 - Coming Down With The Sickness (EP) (192 kbps)
2000 - Stupify (192 kbps)
2000 - Stupify (Promo Single) (320 kbps)
2000 - Summer Of The Sickness (Promo) (320 kbps)
2000 - The Sickness (Special Edition) (320 kbps)
2001 - Voices (192 kbps)
2002 - Believe (Australian Tour Limited Edition) (320 kbps)
2002 - Prayer (192 kbps)
2002 - Remember (192 kbps)
2005 - Stricken (320 kbps)
2005 - Ten Thousand Fists (Tour Edition) (320 kbps)
2006 - Land Of Confusion (320 kbps)
2008 - Indestructible (Japan Edition) (320 kbps)
2008 - Inside The Fire (320 kbps)
2008 - Live & Indestructible (EP) (320 kbps)
2010 - Another Way To Die (320 kbps)
2010 - Asylum (Australian Deluxe Edition) (320 kbps)
2010 - Disturbed (320 kbps)
2010 - The Sickness (10th Anniversary Edition) (320 kbps)
2011 - The Lost Children (320 kbps)
Genre:Alternative
Subgenre
:Nu / Alternative Metal Bitrate:320 k 
Size:1.63 GB
Disponible sólo a los usuarios