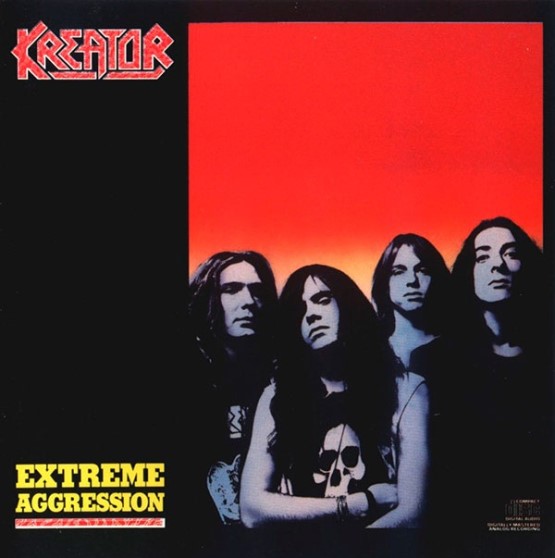 01 EXTREME AGGRESSIONS
02 NO REASON TO EXIST
03 LOVE US OR HATE US
04 STREAM OF CONSCIOUSNESS
05 SOME PAIN WILL LAST
06 BETRAYER
07 DON'T TRUST
08 BRINGER OF TORTURE
09 FATAL ENERGY



My favourite thrash bands were always Celtic Frost and Kreator. Up to 1988 both bands had not only released amazing records but along with the
blinding music the artwork on their records were always clever or raw
and always exciting. In '88 Celtic Frost released Cold Lake. More of a
rock record than thrash but at least the cover showed a new logo. When
it became Kreator's turn to release new material I just didn't get their
front cover at all. It showed a stock photo of the band with a
photoshopped red/orange background slapped underneath. I understand the
reasoning behind it. Interviews at the time were hinting towards the
band writing more serious songs with less dungeons and dragons / heaven
and hell themes. But bands such as Metallica, Death and Megadeth had
done a great job with serious topics portrayed on the sleeve. Extreme
Aggression's cover just felt a little weak and a hell of a lot cheap.

The band made a video for the lightning fast Betrayer and it got some
heavy rotation on Headbangers Ball and in the UK on the BBC's Friday
Rock Show. Due to this the band found themselves with an expanding fan
base and I can see why, I love it when Mille Petrozza sings his "You
can't deny, you can't deny" part before the chorus and it really fired
me up for the release of the album.

I bought it in Our Price record store on the day of release on vinyl and
played it to obliteration. I still have the same copy now, all of its
its pops and crackles are proof positive of this. Listening back today
the opening title track still has that same fire within it as it did
back in the day. The opening scream may not have the same impact as
Slayer's Angel Of Death but its damn close and the riff is just as good
as that monster classic. The best moment on the record comes in the form
of Some Pain Will Last Forever, it has a great spiralling riff that
flowers into another monster guitar part and its mid-tempo pace clearly
separates it from the rest of the record as a stand out cut.

The only times that thing's get a little sloppy is when the band sing
about child abuse on Bringer Of Torture. Its subject matter should
probably be handled by somebody with a better grip of the English
language. And again on the song Love Us Or Hate Us which musically is
nothing short of brilliant but lyrically I think it is an attempt to
bond Kreator fans together with some sort of anthem. Unfortunately it
comes across as if the band is angry at receiving a rotten review, not
so inspiring really.

The band may well have released a better album before this (Terrible
Certainty, 1987) and after it (Renewal, 1992) but Extreme Aggression
kept the thrash flame burning hot at a time when speed fuelled metal was
on its last legs.


1997
F.A.D. Records
N0129-2

Disponible sólo a los usuarios

return to forever ...